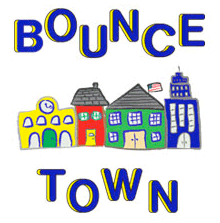 Private Booking Pricing & Information:
*NOTE: Beginning the week of August 30th, we will be OPEN on TUESDAYS and CLOSED on WEDNESDAYS.



Possible times to book

1 hour of private play time

:

Mondays, Tuesdays & Thursdays: 9:00-10:00 am or 5:00-6:00 pm
Fridays: 9:00-10:00 am or 6:00 -7:00 pm
Saturdays & Sundays: 9:30-10:30 am (call for additional availability)
1 hour of private time for up to
10 children (ages 2 years & up) = $150, plus tax.
$10 for each additional child.
(Group will have private use of the entire play area.)
Please call us at (860) 352-8170 or email us at bouncetownct@yahoo.com to book your private time.
We will charge the full amount over the phone, upon booking, since we will be closing our facility for your group.
*FOR PRIVATE PLAY TIME, MASKS ARE OPTIONAL IN THE PLAY AREA ONLY. MASKS STILL MUST BE WORN IN THE LOBBY AND ARCADE BY ALL ADULTS & CHILDREN 2 YEARS AND OLDER.*
*CANCELLATION POLICY: Birthday parties and private play-times can be canceled and refunded up to 30 days before the party. Once you are 30 days from the party, you can reschedule the party, but if you cancel, the deposit will NOT be refunded to you*