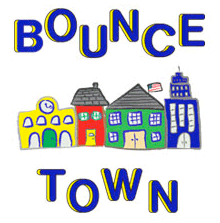 *Waivers MUST be completed BEFORE kids are allowed to bounce. If they
are not completed before coming in, kids MUST WAIT until the waiver is
on file before they play*
If you have done an ELECTRONIC waiver in the past 12 months, you
do NOT need to complete another one




Bounce Town isn't just for jum

ping. There is a

lso an awesome three level playscape and our most recent addition....

A NEW TODDL

ER AREA (for ages 3 years & younger)!
(Chec

k out our Photo Gallery tab to see the new Toddler Area!)



Week Day Open Play Hours:



Mondays, Tuesdays, & Thursdays: 10:00-5:00
Fridays: 10:00-6:00
Weeke
nd Op
en P
la
y
Hours:
Saturday 3/
18
:
10:30-12:30
Sund
ay 3/19
: No op
en play - we
are bo
oked w
ith private
parties
**Open Play is first come, first serve.**
🔴 Cupcakes/cakes may only be brought in if you have a birthday party scheduled. Our lobby tables are for open play customers to have a quick drink or snack while they are playing,

NOT

for birthday setups. We do not allow cupcakes, cakes, or birthday decorations to be placed in the lobby-NO EXCEPTIONS. 🔴
FIELD TRIP INFORMATION:​
Field trip groups are offered a discounted rate of $10 per child plus tax (unless the group is tax exempt)
​
Field trips are only private if 40 or more children attend, OR if the field trip is held at 9:00 in the morning.
​
We require a $100 deposit per hour that the group will be here.
Socks
are


REQUIRED




to play!
Party Availability through June 11th can now be found on the availability page!