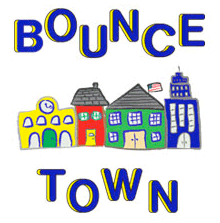 *Waivers MUST be completed BEFORE kids are allowed to bounce. If they
are not completed before coming in, kids MUST WAIT until the waiver is
on file before they play*
If you have done an ELECTRONIC waiver in the past 12 months, you
do NOT need to complete another one




Bounce Town isn't just for jum

ping. There is also an awesome three level playscape and our most recent addition....

A NEW TODDLER AREA (for ages 3 years & younger)!
(Check out our Photo Gallery tab to see the new Toddler Area!)




Weekd

ay Open Play

Hours:




Mondays, T

uesdays, &

Thursdays: 10-5




F

ridays: 10-6





Weekend Op

en P

lay Hours:




Saturday 2/4

: No open

play - w

e are booked with private parties




Sunday 2/5

: No open play - we ar

e booked with private partie

s



**Open Play is first come, first serve.**



🔴 Cupcakes/cakes may only be brought in if you have a birthday party scheduled. Our lobby tables are for open play customers to have a quick drink or snack while they are playing,

NOT

for birthday setups. We do not allow cupcakes, cakes, or birthday decorations to be placed in the lobby-NO EXCEPTIONS. 🔴

FIELD TRIP INFORMATION:​
Field trip groups are offered a discounted rate of $10 per child plus tax (unless the group is tax exempt)
​
Field trips are only private if 40 or more children attend, OR if the field trip is held at 9:00 in the morning.
​
We require a $100 deposit per hour that the group will be here.
Socks
are


REQUIRED




to play!
April Party Availability can now be found on the availability page!