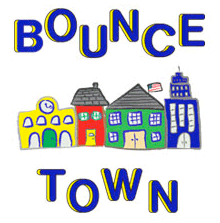 *Waivers MUST be completed BEFORE kids are allowed to bounce. If they
are not completed before coming in, kids MUST WAIT until the waiver is
on file before they play*
If you have done an ELECTRONIC waiver in the past 12 months, you
do NOT need to complete another one



Bounce Town isn't just for jumping...we also have an




awesome, three-level playscape!





OPEN PLAY HOURS THIS WEEK:


Monday 9/26: 10:00-5:00
Tuesday 9/27: 10:00-5:00
Thursday 9/29: 12:15-5:00


Friday 9/30: TBD





WEEKEND OPEN PLAY HOURS:


Sat., 9/24: No open play - booked with private parties
Sun., 9/25: No open play - booked with private parties



**Open Play is first come, first serve.**





🔴

Cupcakes/cakes may only be brought in if you have a birthday party scheduled. Our lobby tables are for open play customers to have a quick drink or snack while they are playing,

NOT

for birthday setups. We do not allow cupcakes, cakes, or birthday decorations to be placed in the lobby-NO EXCEPTIONS.

🔴
Socks
are


REQUIRED




to play!